The Friends of Buckingham have worked for more than seven years to protect our lands from the Atlantic Coast Pipeline. Our efforts were successful! 
An archive of what went into this remarkable environmental accomplishment follows. 
Pipelines & Compressor Stations
The fight against the ACP
Other Environmental Issues
Environmental Justice
Courts and regulatory agencies managing environmental issues
Media Center
Videos of our hearings and celebrations
Pipelines & Compressor Stations
Friends of Buckingham is alerting you to an urgent joint meeting with the Buckingham County Board of Supervisors and the Planning Commission. The meeting will take place on Tuesday, October 13 at 6 pm. Our county officials will be discussing changing an ordinance that...
Other Environmental Issues
The Atlantic Coast Pipeline is dead. So what's next for Buckingham County? Gold, apparently. This month, plans by a Canadian gold mining company to extract the valuable commodity from thousands of acres of land in Buckingham surfaced, setting off a wave of alarm in a...
Buckingham Gold Project, Aston Bay Fact Sheet Compiled by Friends of Buckingham Water Pollution Groundwater contamination is of particular concern where the groundwater feeds surface streams or lakes, or where the groundwater is directly a source of potable water for...
Join ARTivism Virginia's SUN SiNG Collective for their sixth and final concert in this series, which was on June 18. The week's focus was on environmental justice, the fight to protect Union Hill and the Poor People's Campaign and featured guest speaker Reverend Dr....
Due to Covid-19 the Mass Poor People's Assembly and Moral March on Washington was a Digital Justice Gathering to call for a revolution of values to save the soul and heart of our democracy. The political and economic systems in the U.S. are plagued by the interlocking...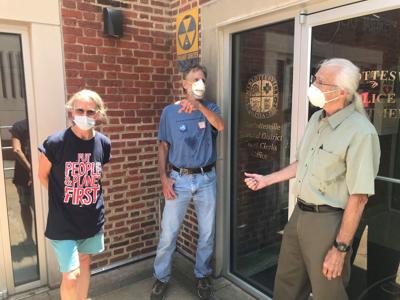 TYLER HAMMEL/THE DAILY PROGRESS Two supporters talk with Richard H. Allan III (right) following his hearing Thursday at Charlottesville General District Court. An Albemarle County man charged with removing a plaque that marks the spot where enslaved people were...
An Expedition led by Senior Fellow, Karen Kasmauski with the International League Of Conservation Photographers.     For a stunning photographic essay and story of Union Hill in Buckingham County and also Nelson County please click HERE.
By Blue Virginia - February 26, 2020 From the Virginia Sierra Club: Virginians Rallied in Protest of Trump's Proposed NEPA Overhaul Climate advocates from across Virginia called on leaders to halt the rollback of NEPA Washington D.C. – The Trump administration...
County Waste/Green Ridge has filed a Notice of Intent and Part A Permit Application with the Department of Environmental Quality to develop a 1200-acre Landfill in eastern Cumberland County. This Heavy Industrial Facility will have a significant impact on the...
The Poor People's Campaign March on Washington is gathering momentum. In 1968, Rev. Dr. Martin Luther King Jr. and many others called for a "revolution of values" in America. They sought to build a broad, fusion movement that could unite poor and impacted communities...
Tish O'Dell, Community Organizer for Community Environmental Legal Defense Fund, https://celdf.org  will be speaking at University of Richmond Law School on Wednesday March 4, Noon-1 pm, Building 203, Room 114. University Map Tish has been a leading advocate in the...
On September 7, a town hall was convened in Buckingham County. An invitation was sent out to our elected representatives. Over 120 people attended this event. See 6 minute video below and on the home page "Union Hill Residents..." The town hall was held in Union Hill...
A broken "no pipeline" sign rests outside a home in Union Hill, where residents are divided over Dominion Energy's plan to build a compressor station for the utility's Atlantic Coast Pipeline. A weeklong boot camp in Union Hill, Virginia, trained 10 area residents on...
Friends of Buckingham, et al. v. State Air Pollution Control Board, et al., is a case pending in the United States Court of Appeals for the Fourth Circuit involving the potential harms facing Union Hill, an African American community in Buckingham County, from the...
The Virginia State Conference NAACP once again has reaffirmed its longstanding opposition to the Atlantic Coast Pipeline. In a court brief filed on April 12, the state NAACP has urged a federal appeals court in Washington to revoke the key federal permit for the...
The Permanent Peoples' Tribunal has just released its Advisory Opinion, recommending a worldwide ban on hydraulic fracturing, the extreme oil and gas extraction technique known as  'fracking.' The materials, and infrastructure of fracking inherently and necessarily...
Friends of Buckingham extends a warm and grateful thank you to Reverend Barber, Al Gore and Karenna Gore for accepting our ernest and urgent invitation to come to Union HIll, to draw and amplify ever widening attention to the injustices forced on the Union Hill...
Former vice president Al Gore and the Rev. William Barber II, left, talk with local resident Ella Rose in front of her home in Union Hill, Va. (Steve Helber/AP) BUCKINGHAM COUNTY, Va. — The little front porch seemed like a pulpit as the Rev. William Barber II outlined...
Black History Month is a time of remembrance – to remember and celebrate African American achievements and culture, but also to remember those parts of our nation's history that we sometimes might like to forget. "Those who cannot remember the past," as George...
Gov. Ralph Northam can't escape the spotlight as former Vice President Al Gore and the Rev. William J. Barber II bring a racial and environmental crusade Tuesday to a little community in Buckingham County with a big natural gas pipeline planned at its doorstep....
In a surprisingly bold statement released to the press, Buckingham County Dems say that  "Gov. Northam can cease the environmental racism and great injustice that is being besieged upon Buckingham County's Union Hill Community." Buckingham County Democratic Committee...