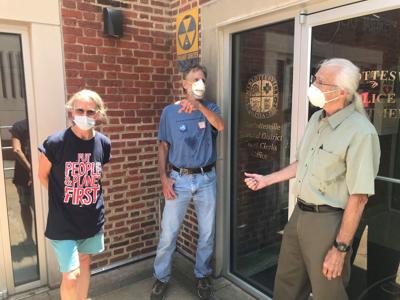 An Albemarle County man charged with removing a plaque that marks the spot where enslaved people were bought and sold in Charlottesville pleaded guilty to a lesser charge Thursday.
Richard H. Allan III, 75, was arrested in February and charged with two felonies: grand larceny and possession of burglarious tools.
Clad in a face mask and standing in an almost entirely empty Charlottesville General District courtroom Thursday, Allan accepted a plea agreement from the commonwealth.
Per the agreement, Allan pleaded guilty to one count of misdemeanor destruction of property. The burglarious tools charge was dropped. He was sentenced to 90 days in jail, all suspended, and 25 hours of community service.
Part of the reason for the lesser charge was that Allan assisted in locating and returning the plaque, Charlottesville Commonwealth's Attorney Joe Platania said during the hearing.
Following the brief hearing, Allan expanded upon his reason for removing the plaque.
"I did not remove the plaque for any reason other than that I thought it was offensive to a significant section of the community, which I have been told in no uncertain terms by community leaders," Allan said.
Allan, who said he has spent 25 years as an iconologist — someone who studies and interprets cultural history through art and iconography — said he believes the placement of the plaque is offensive and a step down from the grey wall marker that was placed in the same area during the city's 1962 bicentennial. [Check out Sacred Source]
About 40 years later, the wall marker was removed, Allan said, prompting community members to begin asking about where it had gone in 2003. It was replaced some time in 2014 with the one in the ground that Allan later removed.
Read more at the Daily Progress
Racial Justice = Social Justice = Environmental Justice