Impact of thousands of wildcat gold miners shown as president Jair Bolsonaro is accused of trying to promote their illegal work
Rare and disturbing aerial photographs have laid bare the devastation being inflicted on Brazil's largest reserve for indigenous people by thousands of wildcat goldminers whose illegal activities have accelerated under the country's far-right leader, Jair Bolsonaro.
Activists believe as many as 20,000 garimpeiro prospectors are operating within the Yanomami reserve in northern Brazil using speedboats and light aircraft to penetrate the vast expanse of jungle near the border with Venezuela.
Bolsonaro, who has repeatedly bemoaned the size of the Yanomami territory and been accused of emboldening environmental criminals with his pro-development rhetoric, was due to make a provocative trip to ​a village in the reserve's south-western tip​ on Thursday – his first to an indigenous community since becoming president in January 2019. Yanomami leaders denounced the visit as an unwanted attempt to promote illegal mining in their ancestral land.
The images, captured during flyovers early last month, leave no doubt about the intruders' impact on the 9.6m-hectare (24m-acre) Amazon enclave – nor the impunity with which they are allowed to act in a supposedly protected reserve.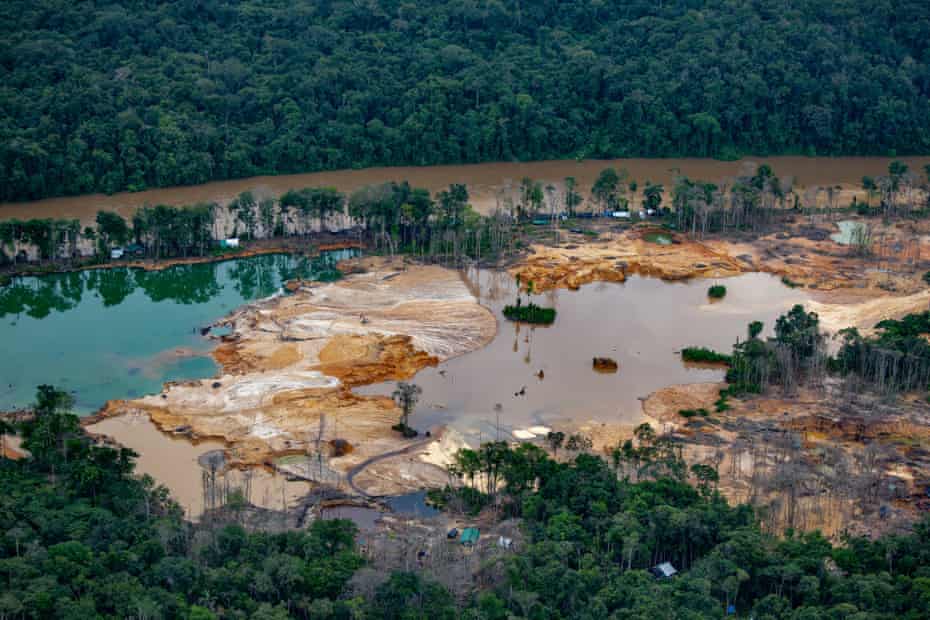 Several photographs show areas where the miners, whose trade 
Bolsonaro has vowed to legalise
, have obliterated the dense, pine-green forest and replaced it with immense bronze-coloured gashes littered with felled trees and pools of stagnant water. Others depict bustling riverside encampments where the 
garimpeiros
 live and work, featuring bars, restaurants, shops, houses and even a snooker table. In some pictures it is possible to make out single-engine planes
and helicopters – used to smuggle workers, supplies and equipment into the reserve – positioned beside clandestine airstrips near the Venezuelan border.
---